SVS medical College Mahbubnagar (SVSMCH) established in the year 1999 managed by Sri Venkata Sai Educational Society. For the academic year 1999-2000 college started with 100 MBBS seats recognized by Govt. of India and National Medical Commission (NMC) affiliated to Kaloji Narayana Rao University of Health Sciences(KNRUHS) Warangal Telangana. SVS aims to provide an integrated learning environment in which students are introduced to the principles of scientific and clinical medicine practice even as it develops every student at three levels like Self Development, Knowledge Process and Patient care. It also inculcates an understanding of the roles, responsibilities and expertise of all health professionals and how they work in teams to deliver excellent health care. SVS Medical College is situated about 110kms from Hyderabad on Bangalore National High Way. Mahbubnagar is connected with Rail Road and Rajiv Gandhi International Airport is the nearest one. Currently SVS Medical college has 150 MBBS intake per year.
SVSMCH-COLLEGE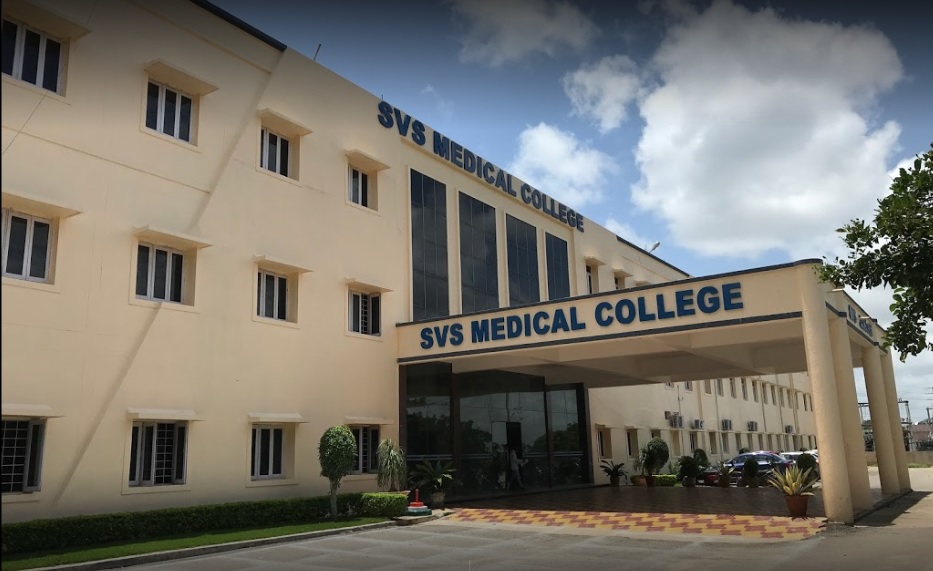 Mahbubnagar is the main city which comes under Mahbubnagar District in the state of Telangana named after the 6th Nizam, Mir Mahbub Ali Khan. MahbubNagar is also known with the name, Palamooru. Mahbubnagar shares its border with Andhra Pradesh and Karnataka, though it is near to Telangana capital still remains an under developed area. One can observe cultural exchange because of border sharing with Karnataka. Management continously working to emerge as leader in educating medical professionals from demographically diverse backgrounds to provide compassionate Clinical care of highest quality to improve the health of communities served. SVSMCH is fully equipped with Spacious Lecture Halls with audiovisual system attached to Demo rooms. Centralised air conditioned Library which can accommodate 500 plus student at one go having more than 15000 book and few journal along with National and International Publications is the highlight. Started with 100 MBBS seats gradually progressed to 150 along with 119 Post Graduation seats in 16 clinical and non clinical departments.SVSMCH is the only private medical college extending support and service to poor and under previleged community. SVSMCH is the most preferred college in Mofussil area. As per the survey conducted by the students SVS stood as a 1st choice of private medical college in Mofussil. Under the guidance of dedicated and experienced Teaching staff and the medical students attached to a group of families to follow up and review ensures the best practical and onground realities in the field of medical learning. Separate Hostels for Boys and Girls available with all modern facilities. Gym is separate for Boys and Girls other than Gym Out door games and In door games creating sportiveness among the students.
SVSMCH-HOSPITAL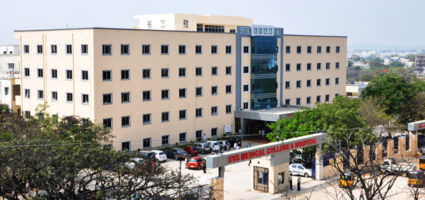 SVSMCH teaching hospital with 750 bedded treating Patients from Karnataka and Andhra Pradesh in addition to Mahbubnagar district. Around 1.90 lac sqft construction which includes all pre-clinical depts. Like Anatomy, Physiology, Biochemistry, Microbiology, Pharmacology, forensic, and also community and medicine dept. SVS is a noted teaching hospital in this area and people prefer visiting SVS than traveling to nearby areas like Hyderabad. Department of Orthopedics is highly named. The number of Major and Minor surgeries in the Orthopedic department is high compared to any other private medical college in Telangana. OPD with specialties Medicine, Surgery, OBG, Orthopedics', Pediatrics', ENT, Ophthalmology, Pulmonology, Dermatology, Psychiatry, Anesthesiology and Radiology record an average patient flow of 800 per day and IP admission of 350 per day. At SVSMCH modern surgical operation theatres are available. ICU, ICCU, NICU proving 24/7 support in Emergency and Casualty.
List of courses in SVS Medical College (SVSMCH)
| | |
| --- | --- |
| Course name | Annual intake |
| M.B.B.S. | 150 |
| Post graduate Courses | |
| MD – General Medicine | 18 |
| MS – General Surgery | 15 |
| MD – Anaesthesiology | 15 |
| MS – Orthopaedics | 10 |
| MD/MS – Obstetrics & Gynaecology | 8 |
| MD – Paediatrics | 7 |
| MD – Radio Diagnosis/Radiology | 7 |
| MD/MS – Ophthalmology | 4 |
| MD – Pathology | 13 |
| MD – Microbiology | 3 |
| MD – Dermatology , Venereology & Leprosy | 4 |
| MS – ENT | 3 |
| MD/MS – Anatomy | 3 |
| MD – Psychiatry | 3 |
| MD – Bio-Chemistry | 3 |
| MD – Tuberculosis & Respiratory Diseases | 3 |
| TOTAL | 119 |
ADMISSION PROCEDURE
SVS Medial College Counselling for MBBS (NEET-UG) and Postgraduate Courses (NEET-PG) in Telangana will be conducted by Kaloji Narayana Rao University of Health Sciences (KNRUHS), Warangal. Under KNRUHS, the Counselling procedure is divided into Convener quota-CQ (Govt.) and Management Quota(MQ1 & MQ2). Domicile(Local) students of Telangana Qualified in NEET-UG and NEET-PG are eligible to participate in the counselling process for which a separate notification is published. For Convener Quota in Telangana, KNRUHS conducts 3 or 4 rounds of counselling followed by Mop Up round. If required, Extended Mop-Up Round Counselling will be done.
Students from all India and Telangana are eligible to participate in the Management Quota Seats for which a separate notification is published. For Management Quota KNRUHS conducts Two Rounds of Counselling followed by Mop Up Round. If required, an Extended Mop Up Round Counselling follows.
To learn more about Telangana NEET-UG Counselling Process CLICK HERE