Dr.Patnam Mahender Reddy Institute of Medical Sciences, established under Rinish Educational Society started with a mission to cater the health care needs of established standards to every individual living in the regions, in and around, the Chevella village.Located at Chevella, Ranga Reddy District, Telangana 50 kms from Hyderabad. It is well connected by Road and located on Hyderabad – Tandur Road. Rajiv Gandhi International Airport at distance of 50kms is the nearest Airport. Secunderabad and Hyderabad are the nearest Railway stations located 50 kms from college. PMRIMS started first Batch of MBBS for the academic year 2019-20 with annual intake of 150. Permitted by National Medical Commission (NMC) and approved by Govt of India affiliated Kaloji Narayana Rao University of Health Sciences (KNRUHS) Warangal Telangana.
Dr.PMRIMS-COLLEGE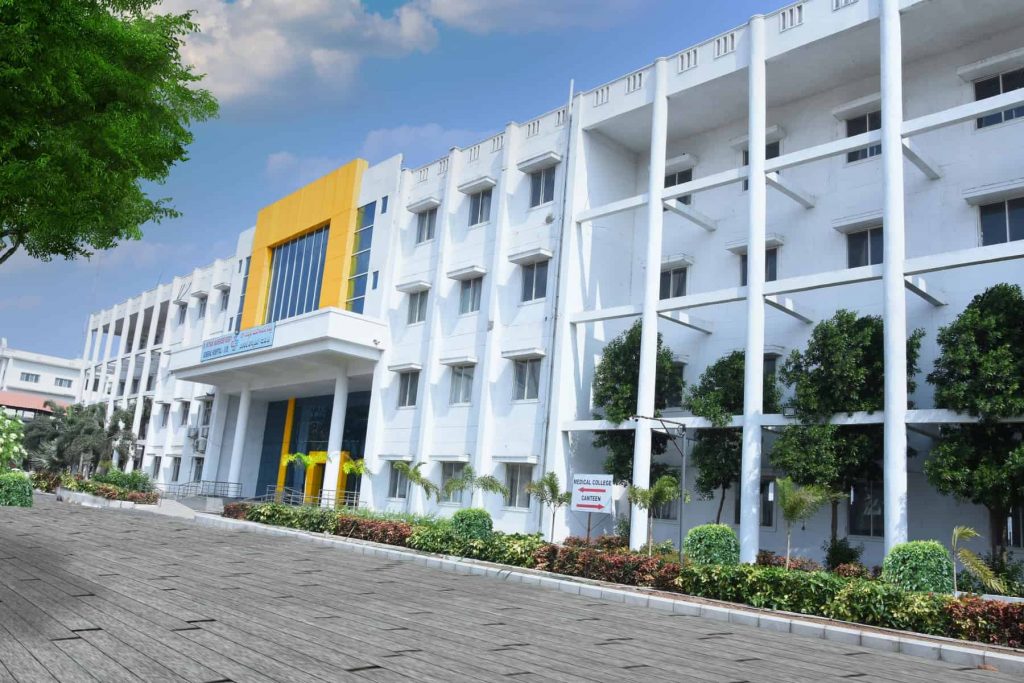 Dr. PMRIMS health care services houses all preclinical and preclinical departments which are provided to all the needy, poor and deserving people. At Dr. PMRIMS 150 MBBS are trained in faculty of Medicine. Lecture Halls are the part of mega infrastructure providing seating about 250 in each Hall with audio visual aids including sound amplifying system, over head projector, 35mm slide projector, LCD projector and microphone and provision for conversion into E-classes for teaching are fully air conditioned. The library has ergonomically designed seating and lightings to provide comfort and privacy to the users stocked with Medical books and journals. Uniqueness of the building is it designed for dual purpose Digital Information Centre and Library. Strong IT department maintaining Student Information System(SIS). Whole campus is under CCTV surveillance. Skill Labs are available. Auditorium with 500 seating is available with all the facilities. Separate Hostel facility for Boys and Girls attached with play ground for Outdoor games and special block for Indoor games. Teaching and Non Teaching friendly and cooperative nature enhance the college atmosphere.
Dr.PMRIMS-HOSPITAL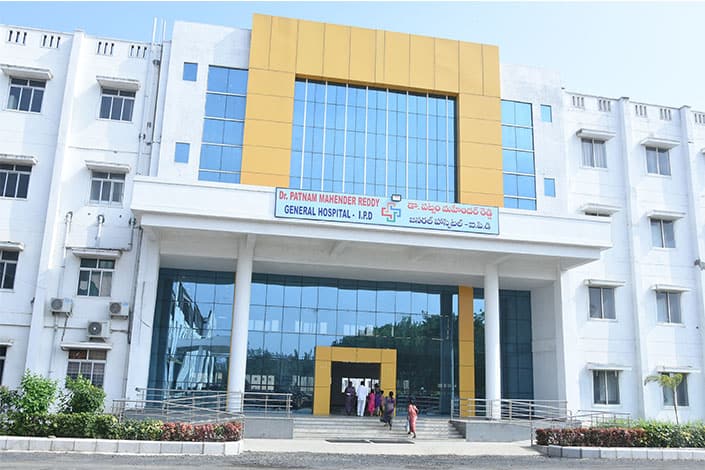 Dr.PMRIMS is 350 bedded teaching hospital helping the under privileged and economically backward labourers, small farmers of Chevella village and surrounding place providing Medical Aid for them. People seeking for Medical Aid prefer Dr. PMRIMS as their first choice. Out Patient departments of Medical and Surgical like General Medicine, General Surgery, Orthopedics, OBG, Pediatrics, Ophthalmology, ENT, Dermatologist Chest, Psychiatry an average of 750 OPD is noted and 150 IPD per day recorded at this Hospital. Hospital has a separate block in the same campus of 25 acres. Hospital building has three clinical and para-clinical departments having 350 beds. The hospital is a Multi Speciality and has qualified and competent staff and deals with all kinds of medical and surgical needs of patients. The hospital functions 24 hours for all days and also provides emergency services. In addition to the General beds in different specialities, there are specialized wards having 5 beds each is ICU, ICCU, SICU, PICU/NICU, RICU and OBG Casualty. This hospital has specialized facilities and installed with CT scan and MRI apart from the Sophisticated Radiology department. The services are all free and patients are given treatment at par with any corporate hospital with maximum care and attention.
ADMISSION PROCEDURE
Dr.Patnam Mahender Reddy Institute of Medical Sciences, Counselling for MBBS (NEET-UG) in Telangana will be conducted by Kaloji Narayana Rao University of Health Sciences (KNRUHS), Warangal. Under KNRUHS, the Counselling procedure is divided into Convener quota-CQ (Govt.) and Management Quota(MQ1 & MQ2). Domicile(Local) students of Telangana Qualified in NEET-UG and NEET-PG are eligible to participate in the counselling process for which a separate notification is published. For Convener Quota in Telangana, KNRUHS conducts 3 or 4 rounds of counselling followed by Mop Up round. If required, Extended Mop-Up Round Counselling will be done.
Students from all India and Telangana are eligible to participate in the Management Quota Seats for which a separate notification is published. For Management Quota KNRUHS conducts Two Rounds of Counselling followed by Mop Up Round. If required, an Extended Mop Up Round Counselling follows.
To learn more about Telangana NEET-UG Counselling Process CLICK HERE