TRR Institution was founded in 2001 by an inspired group of eminent intellectuals and industrialists with the objective of promoting a world-class institution of higher learning in diverse fields of professional education. These institutions offer different programs in Diploma, UG and PG levels. TRR Institute of Medical Sciences established in 2020 for admitting 150 MBBS students Permitted by the Govt. of India and National Medical Council for the Academic year 2020-21affiliated to Kaloji Narayana Rao University of Health Sciences Warangal Telangana .Located close to the suburbs of Hyderabad City,Inole Village,Patancheru.TRRIMS is approximately 56 kms from the Rajiv Gandhi International Airport by ORR and around 54 Kms from the secunderabad Railway Station with excellent access of transportation public and private.
TRRIMS MEDICAL COLLEGE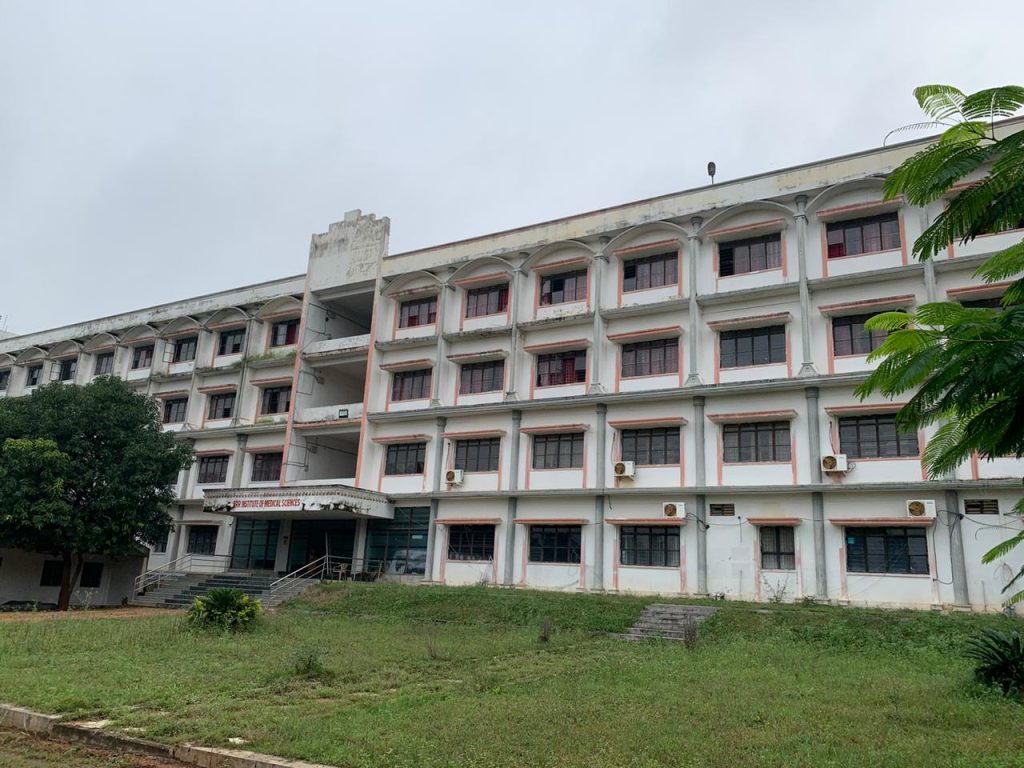 TRRIMS is in the hub of academic activities and started its first Batch of MBBS with 150 seats to start with. It houses all pre-clinical and Para-clinical departments, library, lecture halls and examination hall. Separate Recreation Rooms are available for boys & girls in the Academic Block of the College. Each department has well equipped Research Laboratory, Students Laboratory, Demonstration Halls with audio visual aids (LCD Projectors, Over Head Projectors and slide Projectors) apart from the traditional black board, Library cum Seminar Room, Faculty/staff rooms, Store, Department office with facilities of computer with printer and Internet facility etc. The Academic Block houses 04 fully air-conditioned lecture halls provided with excellent seating arrangements and latest audio visual equipment's. The halls are under CCTV surveillance. A state of art Library cum Digital Information Centre spread over 20 thousand Square meters is located in the Academic Block. The library is stocked with 4000 plus Medical books, 40 journals and 2000 Plus CDROM. The collection is being continuously updated with new editions of Books, Journals and periodicals. Separate Hostel blocks are available for Boys and Girls Teaching Staff and Non Teaching Staff with a high class Mess facility.
TRRIMS  MEDICAL HOSPITAL
TRR Institute of Medical Science is operational with 360 beds with all basic specialities like Medicine, Surgery, Obstetrics, Gynaecology, Orthopaedics, Opthalmology, Paediatrics, Dermatology, ENT, Psychiatry, Pulmonology, Physiotherapy etc. There are 04 Nos. of operation theatres to cater to the needs of various specialties. The out-patient departments are run by qualified specialists. The emergency medicine and trauma departments are working round the clock. It is adequately equipped to deal with all emergencies. The Intensive care unit is well equipped with monitors, ventilators and other supportive systems for giving necessary treatment to the critically ill-patients. The well established and state-of-the art central clinical laboratory and modern blood bank facilities are available for handling all types of elective and emergency medical and Surgical problems. The Hospital is within the reach of both the urban and rural population. It is well connected with public transport facility. The Medical College building adjacent to the Hospital is constructed with all modern facilities basing on the guidelines and norms of Medical Council of India. The student labs, class rooms, library, auditorium and research labs are all designed on par with the most advanced institutions in the country.
ADMISSION PROCEDURE
TRR Institute Of Medical Sciences, Counselling for MBBS (NEET-UG) and Postgraduate Courses (NEET-PG) in Telangana will be conducted by Kaloji Narayana Rao University of Health Sciences (KNRUHS), Warangal. Under KNRUHS, the Counselling procedure is divided into Convener quota-CQ (Govt.) and Management Quota(MQ1 & MQ2). Domicile(Local) students of Telangana Qualified in NEET-UG and NEET-PG are eligible to participate in the counselling process for which a separate notification is published. For Convener Quota in Telangana, KNRUHS conducts 3 or 4 rounds of counselling followed by Mop Up round. If required, Extended Mop-Up Round Counselling will be done.
Students from all India and Telangana are eligible to participate in the Management Quota Seats for which a separate notification is published. For Management Quota KNRUHS conducts Two Rounds of Counselling followed by Mop Up Round. If required, an Extended Mop Up Round Counselling follows.
To learn more about Telangana NEET-UG Counselling Process CLICK HERE