Physiotherapy
Physiotherapy, also known as Physical Therapy is a method of treatment in the modern medical sciences that deals with the movement and function of human body. It helps people to restore, maintain, maximize the Physical strength and function. Physiotherapy is a Health care profession that evaluates, assesses, treats, diagnoses and cures the Physical issues. In addition to the clinical practice, it involves the research, education consultation and health administration.
Physiotherapists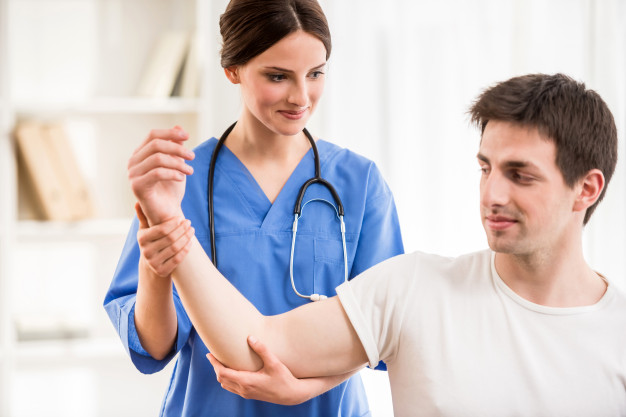 Physiotherapists are licensed and qualified professionals who are highly trained, knowledgeable, technical, and skilled people who provide Physiotherapy. They examine, assess, interpret, plan, diagnose and implement rehabilitative programs that develop, improve, maintain and restore movement ability, manage acute and chronic conditions, relieve pain, and treat physical challenges associated with injuries or other impairments using ultrasound, laser, physical activities, heating, mobilization, and other techniques. Also, educate the patients to prevent re-occurrence of an injury.
BPT - Bachelor of Physiotherapy
BPT is an Undergraduate program where students are awarded a bachelor's degree certificate in Physiotherapy from a recognized college affiliated to the University conducting a full-time course of 4 years and an internship of 6 months. After graduating with Bachelor's degree, they can also do post-graduation programs i.e., Master of Physiotherapy (MPT).
BPT- Year I
Students deal with the basic human biosciences and the foundation of the human system and function. They learn to apply the knowledge of physics to the human body to understand the movements and modalities of the respective subjects.
BPT- Year II
Deals with developing Physiotherapy skills and exploring further subjects like Pathology, Pharmacology, and microbiology. They will study about normal and abnormal human minds and behavior. Students acquire the skills required for effective communication and practice with the patients and caretakers. They even acquire knowledge in the subject of Kinesiotherapy and Electrotherapeutics.
BPT- Year III
The students deal with the learning of all the clinical subjects and apply their knowledge in to practice. They will learn and practice skills like Electrodiagnosis on patients and various specialised manual techniques and therapy on the models.
BPT- Year IV
Students will recall all the knowledge and skills of the previous years and evaluate, plan and execute the various subject's techniques in Community and Hospital Physiotherapy. They deal with the aids and appliances used for the treatment.
Students learn professional ethics and code of conduct as well as legal aspects and moral values. They acquire research methodology and apply in their project work.
Internship
This is 6 months of continuous clinical practice to enhance and upgrade the skills of the students acquired throughout the academic years. The student should have passed the final year exam in all subjects to be eligible for Internship. Internships should be done in the recognized universities teaching hospitals.
Eligibility of BPT
Higher Secondary (10+2) or equivalent qualification from a recognized university. The candidate should have pursued science stream with Physics, Chemistry and Biology as main subjects.
A minimum aggregate score of 50% or equivalent CGPA at the 10+2 level (45% for SC/ST/OBC candidates).
Clinical Specialities
Acute Care
Aquatic Physical Therapy
Cardiovascular and Pulmonary
Clinical Electrophysiology and Wound Management
Federal Physical Therapy
Geriatrics
Hand Rehabilitation
Health Policy and Administration
Home Health
Neurology
Orthopaedics
Paediatrics
Private Practice
Research
MPT – Master of Physiotherapy  
MPT is a postgraduate program, it is a high-level program training given to the students who completed and passed all the subjects in BPT from a recognized institute affiliated with the university. The duration of the course is 2 years. MPT course provides professional and specialized perception into both the clinical practice and the case studies in the field of physiotherapy. MPT includes both theoretical and practical approach to learn the subject's aspect. That helps the students to develop critical and creative thinking, real-time experience and secure good knowledge and skills in accordance with it. Thus, becoming a medical expert in the field of physiotherapy. MPT specializations have included all the modern and technical developments along with the natural physiotherapeutic approach have taken place in modern-day science.
Eligibility of MPT
The candidate must pass in Bachelor of Physiotherapy of a minimum of 3 and half years duration / 4 years from Recognised or any other university in India or abroad with not less than 50% marks in aggregate and should have completed 6 months of compulsory rotating internship in a recognized hospital.
Career Opportunities
Clinical Physiotherapist in Multi-speciality Hospitals / NGO / Nursing Homes / Rehabilitation Centres.
Physiotherapy instructor in Sports club and Fitness centres.
Community Physiotherapists.
Corporate Physiotherapists in Multinational Companies (MNC's).
Airlines or railways.
Various Health Departments.
In schools, colleges, and universities as teaching faculty.
Health and wellness Industries.
International Healthcare organisations (UNICEF, UNDP, WHO)
Non-Government and Government organisation.
Researchers.
Private practitioner by setting up own clinics.
Good Physiotherapy Colleges in Karnataka
Sivananda Sarma Memorial RV College (SSMRV COLLEGE), Bangalore.
Oxford college of Physiotherapy, Bangalore.
M.S Ramaiah college of Physiotherapy, Bangalore.
JSS college of Physiotherapy, Mysore.
Krupanidhi college of physiotherapy, Bangalore.
Kempegowda Institute of Physiotherapy, Bangalore.
Yenepoya College of Physiotherapy, Mangalore
Nitte Institute of Physiotherapy, Mangalore.
Dayananda sagar college of Physiotherapy, Bangalore.
visit website for further details:  https://admissionphysiotherapy.com/