Jawaharlal Nehru Medical College (JNMC) was established in 1963 at Belgaum. The college is recognized by Govt. of India and the National Medical Commission (NMC) and is affiliated with the The KLE Academy of Higher Education and Research (KAHER) (Deemed-to-be-University). JNMC is Accredited 'A' Grade by NAAC (2nd Cycle) and Placed in Category 'A' by MHRD (GOl),Placed 2nd Rank by Karnataka State Universities Rating Framework (K-SURF), Government of Karnataka under the 'Established University' Category. The college was earlier affiliated with the Rajiv Gandhi state University of Health Sciences. Jawaharlal Nehru Medical College is a Centre of Excellence in Medical Education, Research and Health Care Services at Regional, National, and International level. The The KLE Academy of Higher Education and Research (KAHER), Deemed-to-be-University established on 13th April 2006 is one of the premier Health Science Universities in the country. KLE Society, was established in 1916 has over the years established itself as a rising star in the field of education and healthcare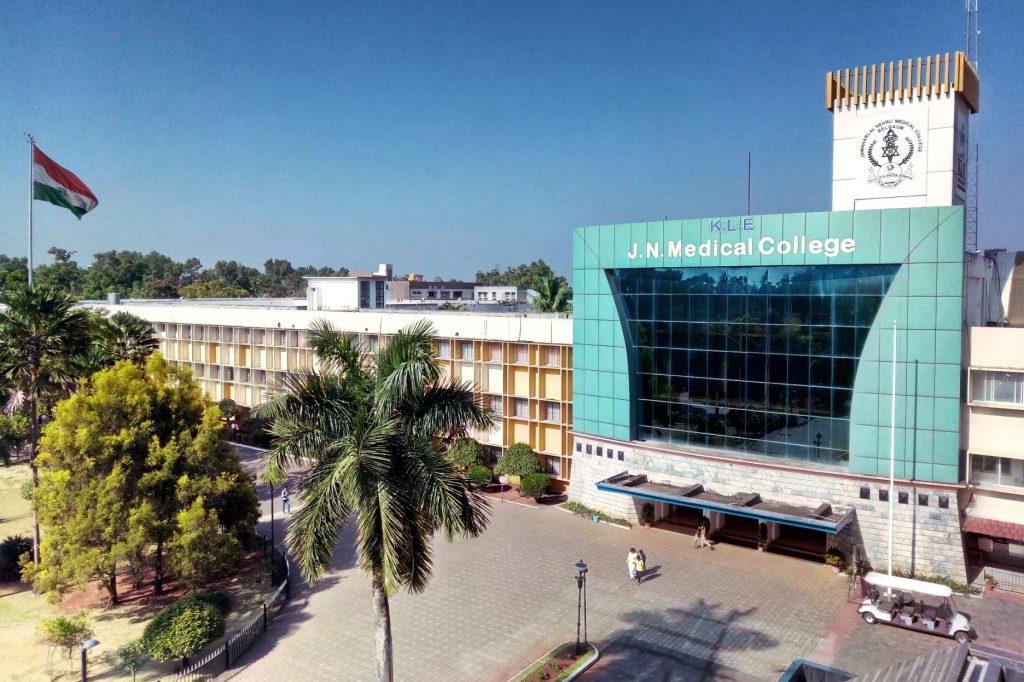 The college is located in a 100-acre sprawling, beautiful, clean and green campus in Belgaum. All the buildings are an example of modern architecture, its convention Centre with four auditoriums is comparable to best anywhere in the world. Campus has advanced facilities, of international standards of infrastructure, Multi-discipline faculty, and demographically varied student body, transcends the boundaries of traditional education, providing a vibrant environment to promote fresh thinking and exchange of ideas. All the class-rooms are provided with modern audio-visual equipment's, the libraries are well-equipped and well-stocked.
The JNMC medical college offers 200 seats in MBBS, Postgraduate Courses in 21 departments, and a Super Specialty course in 11 departments. It's among the best 5 medical institutes in Karnataka and 25 among the best colleges in India.The University has recently established the state-of-art high tech, high fidelity simulation Centre.
The University has 30 active national and international collaboration. The University has recently entered into a collaboration with the second oldest university in the USA viz.Thomas Jefferson University, USA. This collaboration will further enhance research output, faculty development and exchange of students. Apart from this, the University has two Basic Health Science Research Centres, Central Research Facility in Ayurveda College and APJ Abdul Kalam Ayurtech Department in Ayurveda College, Drug Testing Laboratory, etc.
The city is well connected by railways, roads, air. Belgaum airport is located around 30 min (14.4km) away from college. Major flights from different domestic and international destinations serve from Mangalore on a daily basis. Direct and regular buses from different parts of Karnataka and nearby states are available for Belgaum. Belgaum is connected by road via national highways 4 connecting Maharashtra (now part of the Golden Quadrilateral), Karnataka, Telangana, Andhra Pradesh, and Tamil Nadu, and 4A connecting Karnataka and Goa.
J. N. Medical College campus, Belagavi, comprises of 9 hostels, of which 4 Boys Hostels & 05 Girls Hostels. These hostels cater to the needs of Medical Undergraduate and Postgraduate students & also Interns. The College is endowed with a modern gymnasium, huge amphitheater , Olympic size swimming pool, a huge parking facility (available to both students and faculty), sports complex (wood floored badminton courts, table tennis, lawn tennis court ), Basketballground and a stadium.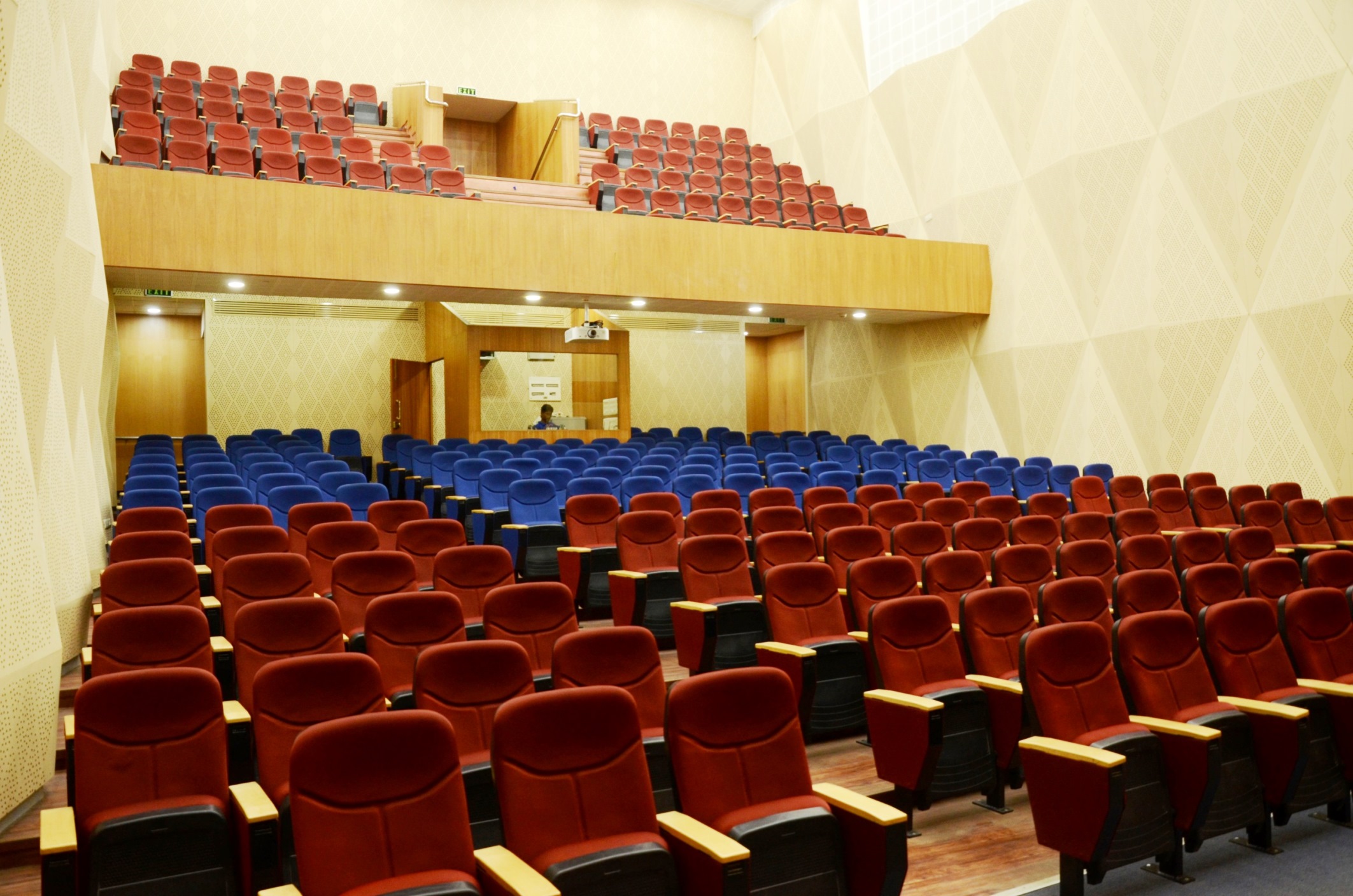 ASSOCIATED HOSPITAL FOR CLINICAL TRAINING
Dr. Prabhakar Kore Charitable Hospital(PKCH)
Since the inception of J N Medical College (JNMC), the Government District Hospital, Belagavi (DHB) was affiliated with it for clinical training. When the Belgaum Institute of Medical Sciences (BIMS) was started in 2004, the DHB was disaffiliated from JNMC. Dr. Prabhakar Kore Charitable Hospital(PKCH) was commissioned in 2004 for clinical training of JNMC students. PKCH provides free health care in the basic specialties to the poor people of this part of the country. At present, there are 1400 beds in the hospital and with 80 to 90% occupancy, it provides an excellent range of clinical material to undergraduate(UG) and post-graduate (PG) students and researchers.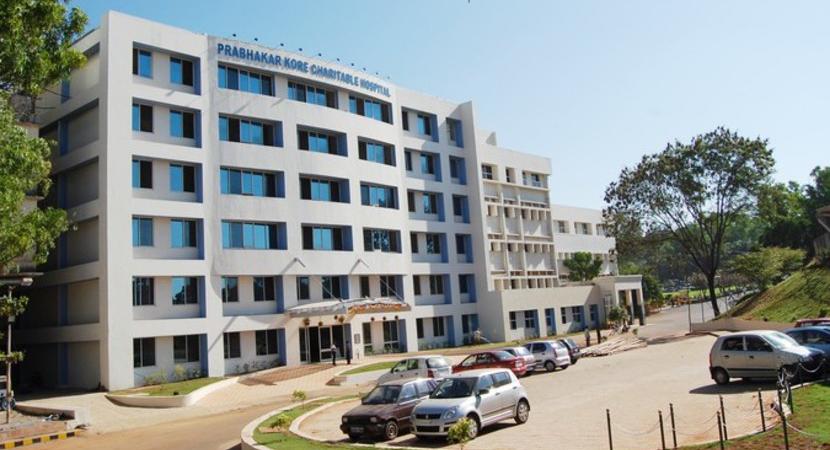 Clinical board's general specialities viz. Medicine, Surgery, OBG, Orthopaedics, Paediatrics, ENT, Ophthalmology, Pulmonology, Dermatology, Psychiatry, Anaesthesiology and Radiology and three paraclinical departments viz. Pathology, Microbiology and Biochemistry are working in the PKCH. There are 16 major, and 4 minor operation theatres, fully equipped, including laparoscopic surgical sets. In addition to the basic clinical specialities, Mother and Child Institute, Kangaroo mother care, NICU, PICU, OICU, Paediatric Nephrology including dialysis, Paediatric Physiotherapy, Arthroscopy and GI Endoscopy are some of the specialised tertiary level services rendered in the hospital. Nutrition Rehabilitation Centre is established in the Paediatrics dept to manage Severe Acute Malnourished(SAM) children. Pharmacology faculty look after Pharmacovigilance activities. Poison Detection Centre is another unique facility managed by the Forensic Medicine department. Clinical Skills Lab is also located in the PKCH. The central laboratory performs all basic investigations. Basic imaging services like X-Ray and USG are free; CT and MRI are subsidized.
The hospital is empaneled by many Governmental and Non Governmental health insurance schemes.
Primary Health Centre
Three primary Health Centre', at Kinaye,Wantamuri and Handignur and a Urban Health Centre at Rukmini Nagar, have been taken over by the college from the Government under the Public Private Partnership. These Health Centres are completely managed by the College. They provide great opportunity to serve the community, to expose the students to primary level health care delivery and to undertake community based research programs. The college also runs a rural hospital – Dr. Kamal Medical Centre, 150 KMs away at Ankola, Satellite ICUs at Hubli, Gokak & Jamkhandi.
KLES Dr. Prabhakar Kore Hospital & Medical Research Centre

Prabhakar Kore Hospital and Medical Research Centre is a paid cooperate super-specialty hospital in collaboration with the prestigious Jawaharlal Nehru Medical College (JNMC) spread over 18 acres provide emergency, outpatient, inpatient, day-care, community outreach, through a 1450+ bedded facility and with approximately 2500+ Staff Members, 350+ Doctors, 267 ICU Beds,20 hi-tech operation theatres gives world-class health services. It is one of the first hospitals in the region to have a human milk bank.
Trauma and Emergency Centre operate 24 hours a day, 7 days a week. It is staffed by consultant-led teams that meet the patient on arrival at the hospital and have immediate access to the best diagnostic and treatment facilities, including blood transfusion, CT scans, and Emergency Operation Theaters.
The Super Specialties include Urology, Nephrology, Medical Oncology, Surgical Oncology, Plastic Surgery, Neurology, Neuro Surgery, Pediatric Surgery, Endocrinology, Vascular Surgery, Gastroenterology Medical, Gastroenterology Surgical and Cardiology.
The hospital offers all the modern, diagnostic and therapeutic facilities. This hospital not only provides excellent clinical services for a population of more than 20 lakh in surrounding three states and 20 districts but also provides excellent facilities for teaching and training of medical Under-Graduate, PostGraduate and super-specialty students.
Obstetrics And Gynecology, Ophthalmology, Anesthesia, Cardiology, Pediatrics, are among the best department.
                 List of MBBS,MD/MS/DIPLOMA/SS Courses and seat in Jawaharlal Nehru Medical College (JNMC) 
| | |
| --- | --- |
| Course name | Annual intake |
| M.B.B.S. | 200 |
| Post graduate Courses | |
| MD – General Medicine | 21 |
| MS – General Surgery | 18 |
| MD – Anaesthesiology | 20 |
| MS – Orthopaedics | 10 |
| MD/MS – Obstetrics & Gynaecology | 19 |
| MD – Paediatrics | 20 |
| MD – Radio Diagnosis/Radiology | 15 |
| MD/MS – Ophthalmology | 5 |
| MD – Pathology | 13 |
| MD – Social & Preventive Medicine / Community Medicine | 10 |
| MD – Microbiology | 4 |
| MD – Tuberculosis & Respiratory Diseases / Pulmonary Medicine | 5 |
| MD – Dermatology , Venereology & Leprosy | 5 |
| MS – ENT | 13 |
| MD/MS – Anatomy | 4 |
| MD – Psychiatry | 5 |
| MD – Bio-Chemistry | 3 |
| MD – Physiology | 4 |
| MD – Pharmacology | 4 |
| MD – Forensic Medicine/Forensic Medicine & Toxicology | 6 |
| Diploma in Tuberculosis & Chest Diseases | |
| TOTAL | 214 |
| Super Specialty | |
| M.Ch – Urology/Genito-Urinary Surgery | 5 |
| M.Ch – Neuro Surgery | 1 |
| M.Ch – Paediatric Surgery | 3 |
| M.Ch – Surgical Oncology | 1 |
| M.Ch – Thoracic Surgery/Cardio Thoracic Surgery/Cardio Vascular and thoracic Surgery | 2 |
| M.Ch – Plastic Surgery/Plastic & Reconstructive Surgery | 4 |
| DM – Cardiology | 5 |
| DM – Neurology | 4 |
| DM – Gastroenterology | 1 |
| DM – Nephrology | 3 |
| DM – Cardiac-Anaesthesia | 1 |
Seat Matrix For MBBS (200 SEAT)
Medical Counseling Committee (MCC)
Management Quota
NRI Quota
85%
15%
158 (seat)
(30)
KEA (Karnataka Examinations Authority)
State Government Quota 6%
12 (seat)
ADMISSION PROCEDURES
State KEA (Karnataka Examinations Authority) Conducts a Counselling for 2% seats of JNMC. KEA conducts Online counseling R1 & R2 and Mop-up rounds (Offline) through a single application Process for Government and Management seats in Karnataka.
To Know About KEA Counseling Read Karnataka (KEA) NEET-UG Counselling, Seat Matrix, Reservation, Govt. and Management Seats CLICK HERE
–Medical Counseling Committee (MCC) Admission Procedure-There are 4 Rounds of counseling i.e. Round 1, Round 2 , Mop-Up Round & Stray Vacancy Round. Out of the four rounds, three rounds are conducted online by MCC i.e. Round 1, Round 2, and Mop-Up Round. The Stray Vacancy round shall be conducted by the respective Deemed Universities for which the students must be registered and are displayed in the MCC List.
To Know About MCC Counselling Read Medical college's under Deemed University- Admission Process, Eligibility, Seats, Fee, Cut-off etc. CLICK HERE
If you have any other query about Jawaharlal Nehru Medical College, Belagavi , you can ask us by leaving your comments below