Yenepoya Medical College (YMC) was established in 1999 at Deralakatte Mangalore. The college is recognized by Govt. of India and the National Medical Commission (NMC) and is affiliated with the Yenepoya University (Deemed-to-be-University). Yenepoya Medical College (YMC) run under the Islamic Academy of Education, a not-for-profit trust committed to the upliftment of minorities, was established by the entrepreneur Mr. Yenepoya Abdulla Kunhi as its Chairman. Yenepoya Medical College (YMC) is Accredited 'A' Grade by NAAC. The college was earlier affiliated with the Rajiv Gandhi state University of Health Sciences. Yenepoya Medical College is a Centre of Excellence in Medical Education, Research, and Health Care Services at the Regional, National, and International level. Yenepoya University (Deemed-to-be-University) promotes general, technical, medical and other professional/scientific education among the general masses, regardless of their caste, creed, and community but with a special focus on the Muslim Minorities. The Yenepoya (Deemed to be University) has been ranked 86 among the top 100 universities in the country as per the NIRF rankings 2020 published by the Ministry of Human Resource Development,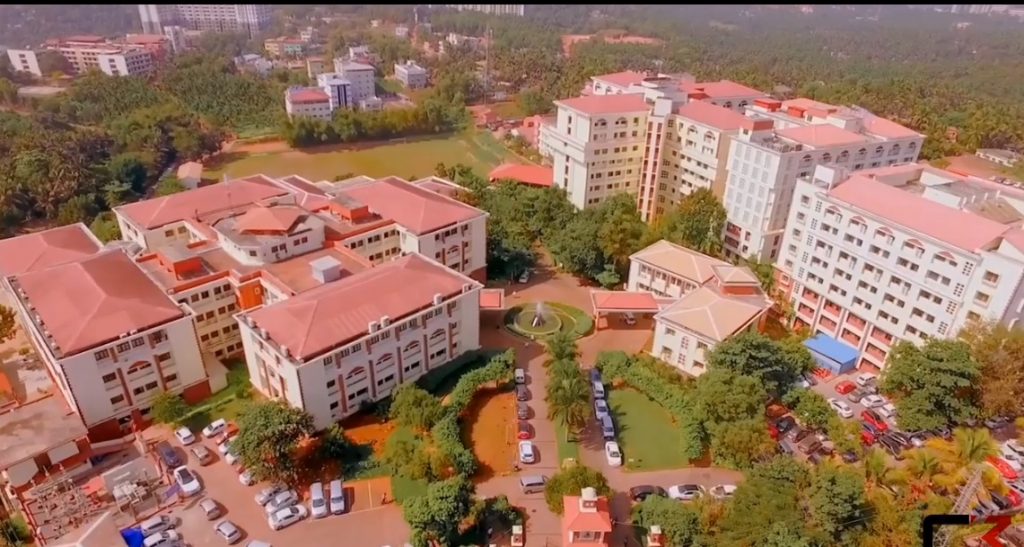 Yenepoya Medical College stands on a sprawling green campus that spreads over an area of 32 acres of land, The institute offers the best of facilities for the purpose of education and research activities. The college has a world-class infrastructure with tall buildings an excellent Wi-Fi-enabled campus. The institute provides spacious classrooms, fully equipped ultra-modern labs.
The Yenepoya Medical College offers 150 seats in MBBS, Postgraduate Courses in 20 departments, and a Super Specialty course in 2 departments. It's among the best 5 medical institutes in Karnataka.
The institute shall provide residential accommodation in the campus to the students admitted to regular courses. It is compulsory for the students admitted to Yenepoya Medical College that they reside in the hostel. Students residing within 10 km radius are permitted to commute from the surrounding Areas.
Yenepoya Medical College has adequate facilities for sports and games within the campus, A multipurpose hall,the indoor facility with a viewing gallery of 550 seats. Standard Basketball Court, Shuttle Badminton Court, Volleyball, and Table Tennis Squash Court, Board Games.
The city is well connected by railways, roads, air, and seaports respectively. Mangalore has its airport located around 37min (24 km) away from college. Major flights from different domestic and international destinations serve Mangalore on a daily basis. Direct and regular buses from different parts of Karnataka and nearby states are available for Mangalore.
ASSOCIATED HOSPITAL FOR CLINICAL TRAINING
Yenepoya Medical College Hospital
Yenepoya Medical College Hospital is a 700-bed teaching Multispecialty hospital medical College teaching hospital that offers various modalities of a treatment facility in both broad specialty and super specialty services attached to the college. With 80 to 90% occupancy, it provides an excellent range of clinical Experience to undergraduate(UG) and post-graduate (PG) students and researchers.
it's well equipped with modern facilities for diagnosis and treatment. Yenepoya Medical College Hospital recorded an average of 650 Out-Patients and 300 In Patients per day. In-Patient facility including I.C.U, I.C.C.U, N.I.C.U, P.I.C.U, Labor Room, Post Operative Care, and all types of surgeries which include caesarian are provided. Accident, Emergency, and Pharmacy runs 24 hours for Departments of all broad specialties
Yenepoya Specialty Hospital
Established in 1995, Yenepoya Speciality Hospital is a 234 bedded multi-specialty hospital. Located in an easily accessible area in the heart of Mangalore City, Karnataka. this hospital is attending to more than 300 cases for the needy people in and around Karnataka State and beyond on daily basis.
Key specialties at the hospital include but not limited to: Anesthesiology, Audiology, Cardiac Anesthesia, Cardiology, Cardiothoracic Surgery, Dermatology, Dietetics, Dentistry, ENT, General Medicine, General Surgery, Medical Gastroenterology, Neonatology, Nephrology, Neurology, Neurosurgery, Obstetrics and Gynecology (Including high risk obstetric cases), Internal Medicine, Oncology, Ophthalmology, Orthopedic Surgery, Pediatric, Pediatric Surgery, Physiotherapy, Plastic and Reconstructive Surgery, Psychiatry, Rheumatology, Spine Clinic, Surgical Gastroenterology, Urology, Vascular Surgery.
The Orthopedics & Joint Replacement at the hospital is dedicated to providing advanced orthopedic care and it performs a wide range of complex procedures for both children and adults.
In Yenepoya Speciality Hospital, medical equipment and infrastructure including CT & MRI Scanners, Digital X-Ray, Mammogram, Ultrasound, Colour Doppler, Cath Lab, Dialysis facilities, Labour delivery rooms for high-risk pregnancies, Critical Care Units, Neonatal Intensive Care units and Day Care Chemotherapy. The hospital also provides round-the-clock emergency, pharmacy, laboratory, and ambulance services.
List of MBBS,MD/MS/DIPLOMA/SS Courses and seat in Yenepoya Medical College
| | |
| --- | --- |
| Course name | Annual intake |
| M.B.B.S. | 150 |
| Post graduate Courses | |
| MD – General Medicine | 12 |
| MS – General Surgery | 10 |
| MD – Anaesthesiology | 9 |
| MS – Orthopaedics | 7 |
| MD/MS – Obstetrics & Gynaecology | 6 |
| MD – Paediatrics | 4 |
| MD – Social & Preventive Medicine / Community Medicine | 4 |
| MD – Radio Diagnosis/Radiology | 7 |
| MD/MS – Ophthalmology | 5 |
| MD – Dermatology , Venereology & Leprosy | 4 |
| MS – ENT | 5 |
| MD – Forensic Medicine/Forensic Medicine & Toxicology | 2 |
| MD/MS – Anatomy | 2 |
| MD – Tuberculosis & Respiratory Diseases / Pulmonary Medicine | 1 |
| MD – Psychiatry | 3 |
| MD – Microbiology | 2 |
| MD – Physiology | 2 |
| MD – Bio-Chemistry | 2 |
| MD – Pathology | 10 |
| MD – Pharmacology | 2 |
| TOTAL | 99 |
| Super Specialty | |
| M.Ch – Urology/Genito-Urinary Surgery | 3 |
| M.Ch – Surgical Oncology | 2 |
Seat Matrix For MBBS (150 SEAT)
| | | | |
| --- | --- | --- | --- |
| | Medical Counseling Committee (MCC) | | Karnataka Examinations Authority (KEA) |
| Management Seats (MNG) | Muslim Minority (MM) | NRI Seats (NRI) | Govt.Seat KEA |
| 58 | 57 | 20 | 12 |
ADMISSION PROCEDURES
State KEA (Karnataka Examinations Authority) Conducts a Counselling for 2% seats of JNMC. KEA conducts Online counseling R1 & R2 and Mop-up rounds (Offline) through a single application Process for Government and Management seats in Karnataka.
To Know About KEA Counseling Read Karnataka (KEA) NEET-UG Counselling, Seat Matrix, Reservation, Govt. and Management Seats CLICK HERE
Medical Counseling Committee (MCC) Admission Procedure-There are 4 Rounds of counseling i.e. Round 1, Round 2 , Mop-Up Round & Stray Vacancy Round. Out of the four rounds, three rounds are conducted online by MCC i.e. Round 1, Round 2, and Mop-Up Round. The Stray Vacancy round shall be conducted by the respective Deemed Universities for which the students must be registered and are displayed in the MCC List.
To Know About MCC Counselling Read Medical college's under Deemed University- Admission Process, Eligibility, Seats, Fee, Cut-off etc. CLICK HERE
If you have any other query about Jawaharlal Nehru Medical College, Belagavi , you can ask us by leaving your comments below