Maharajah Institute of Medical Sciences runs under Sri Rama Educational Trust promoted by Sri Alluri Murthy Raju an educationist who also established technical and management institutions in Andhra Pradesh. MIMS is located at Vizianagaram Andhra Pradesh well connected by Road and Rail. Visakhapatnam Airport is 60 km from college. In the year 2002 MIMS started with 100 MBBS seats and extended to 150 later by building advanced infrastructure. MIMS is recognized by Govt of India and National Medical Commission (NMC) affiliated to Dr. NTR University of Health Sciences, Vijayawada.
MIMS-COLLEGE
Maharajah Institute of Medical College with 150 MBBS and 94 Postgraduate seats training medical students. MIMS has Four Lecture Halls with air conditioning, gallery type. Three with seating capacity for 180 students each & one with 350 students. Lecture theatres are provided with necessary independent audio-visual aids including overhead projector, slide projector, LCD projector and a microphone. A modern and state of the art Auditorium and Examination Halls in the main building helps students access and facilitate for better equipped Preparations. Separate accommodation for boys and girls, which varies from single occupancy to three in a room, these hostels have independent library in their respective buildings. Two Gymnasiums with Multigym, Treadmill, Weights Abdominals, Gazelles, Hydrotherapy Pool. Games and Sports like Football, Cricket, Throw Ball, Basketball, Table Tennis are popular here in the student community. Centralized air conditioned Library digitally equipped having more than 10000 books and few journals is available. Accommodation is provided to teaching and non teaching staff.
MIMS-HOSPITAL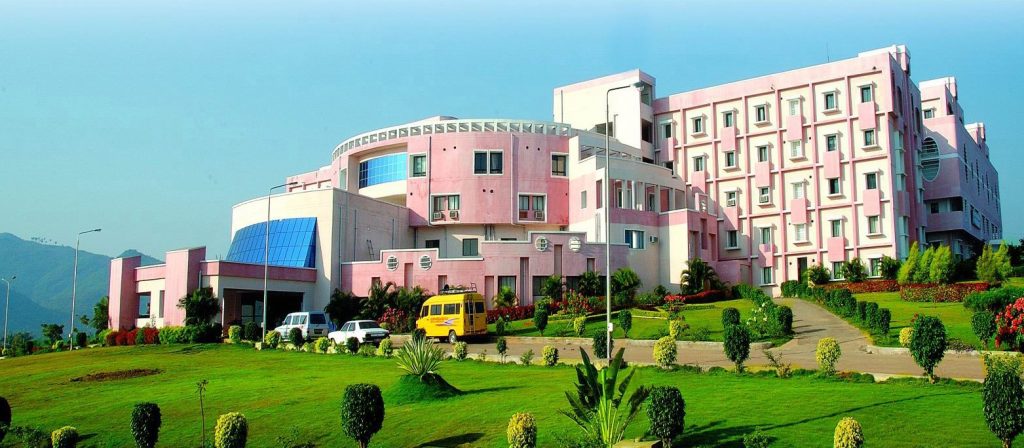 MIMS hospital with 830 teaching beds spread in a vast area. Hospital is located in Nellimarla village close to Vizianagaram city. Patients from 2 to 3 districts visit as the hospital is centrally placed in north east part of Andhra Pradesh. Vizianagaram and surrounding areas are thickly populated with hilly regions and their Tribes. Mr. Murthy Raju started this hospital in 2002 with a motto to provide relief and assistance to victims of natural calamities, and provide free medical services to the poor patients. Modular operation theatres and well equipped Laboratories, Radiology department plays a major role in support and service and patients visiting this hospital. ICCU, ICU,NICU working round the clock in emergency and casualty. Blood bank work round the clock to serve the local patients to tackle any emergency. Apart from the routine blood donation, cross matching and comb's test, MIMS also conducts blood grouping camps in other institutes & companies and maintain a voluntary blood donor database to help our patients. Surgical Departments like OBG, General Surgery, Ophthalmology, Orthopedic and ENT with efficient doctors performing critical operations providing top class health care to public. Well established Medical departments like General Medicine, Dermatology, Pediatrics', TB&CD and Psychiatry make an average appearance of 500 outpatients and 150 inpatients per day. Management has provided Buses from surrounding rural areas for the patients to reach the hospital.